--- Member Statistics ---

12,553 members, 8 online
Newest member: jcjax

Potential S&P bounce off of support


This pattern looks similar to the Aug/Sept 2015 set up. This pattern was also similar to Nov 2008 **And it did not hold up. One main difference in 2008 was that the Momentum/Bollinger band squeeze broke out NEGATIVE (red).

This pattern depends on the Momentum/Bollinger band squeeze breaking POSITIVE (green). Also MACD going (+) with divergence increasing, Stoch RSI going into Oversold conditions.

***Only for discussion purposes. Just something I was looking at and my brain says it could be something to keep an eye on for an entry point. If an entry was made, extreme caution would be warranted.

https://www.tradingview.com/x/TzJecsAA/





How Low Can it Go?


While the question is impossible to answer definitively, we can get some clues by looking at a monthly chart of the S&P 500 (C-Fund).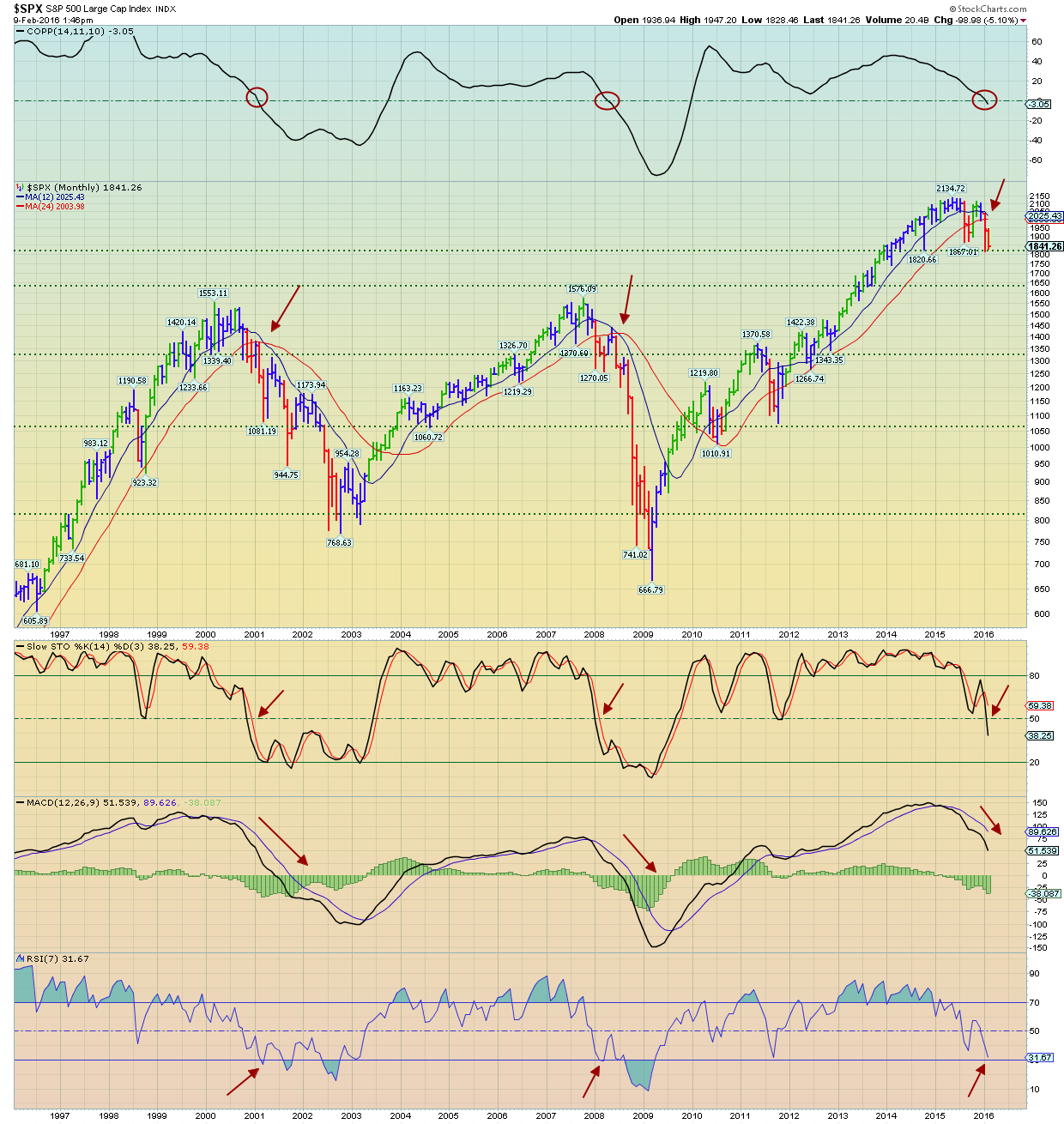 Does the FED know they need to raise rates?


I read a few days ago that Iran wants Euros for oil.

http://www.cnbc.com/2016/02/07/iran-wan ... sales.html

Since oil and commodities are traded in dollars, are we seeing this starting to unravel? This would lead to a large flood of dollars back into the US. Perhaps the FED keeps saying unemployment rate as an excuse to raise interest rates because they need a red herring? Can you imagine the possible implications if they said the dollars dominance is ending so they need to stop inflation before it's here? Just some thinking...



---




TSP Center Subscription (Scarfinger)


I have to attribute everything I know because of this site. I have been using it for 5 years now. Total free


This site has been so important and it provides such a great service for free. I can afford to donate 5$ a month.

Consider donating if you can afford it.

Blah, blah, blah. Hugs and kisses. Now get back to work!



---




Bonds are Flying - Gold is Flying


The fact that bonds and precious metals prices are going nuts tells me that something in the equity markets just broke.

Not to mention an unbelievable oil / commodities collapse along side a tremendous debt bubble.

Is panic setting in at this very moment ? I don't know, but there sure are some signals present that would suggest panic is near.



---




This Is Your Life Savings


**FULL DISCLOSURE: This is my personal and humble opinion, if you do not want to hear it please keep scrolling through posts**

I believe this site is a great resource for TSP members to communicate with one another to see what methods others are using to take full advantage of their TSP accounts. That's great.

But from everything I'm seeing there is a tremendous amount of trading going on in regards to TSP accounts. In fact, I believe people are putting far too much research and technical analysis into something that should be low upkeep.

Instead of trying to figure out what the market is going to do tomorrow I believe TSP members should be figuring out the following:

- What are my retirement goals?
- How much money will I need in retirement?
- Will my mortgage be paid off before retirement?
- How much monthly income will I receive if I were to retire today after fulfilling the necessary requirements?

These are just a few questions of many!

But here is my overall point. When I ask my subscribers what they plan to get out of their TSP accounts when they retire the answer I hear more often than anything is, "A lot of money."

Don't get me wrong, of course they want a lot of money but "a lot of money" is not a defined goal that one can sit down and strategically plan for. Quite frankly, the thought process of obtaining "a lot of money" often leaves individuals wandering blindly. They start hearing about other people's investment success and instantly think they need to be doing something more. Put simply, they start competing with others instead of competing with themselves.

Here is where I would usually plug a case study from our website but I'm not doing that today. I truly want people to sit down and contemplate what they want to obtain from their contributions to the Thrift Savings Plan.

If you don't take away anything from what I've said today then please take away this tidbit of advice...

Rome wasn't built in a day and fortunes are not made overnight. Instead of swinging for the fences, try to build wealth with very little risk and keep what you already have. In other words, focus on getting a little richer everyday.



---




TSP Forecast 8-12 Feb


Thank you Scarfinger for the shout-out.. We're so close, I could use your chart for what I have in mind..

Other than a good size chunk taken out of the market Friday, my previous analysis is holding.. So I wont re-iterate other than STO's on the core funds have rolled over, so look for lower lows. AGG has already maxed out, so its just going for a ride.. Here are the charts as always..

AGG / F Fund:... , SPX / C Fund:... .. DWCPF / S Fund:... .... EFA / I Fund:... ...

Other Charts... DOW Index:..., NASDAQ Index, CNBC Pre Market

Ok, on to what I talked about last Friday..

If you haven't caught it, I have made several references to our current situation as a near mirror to Aug 2014 and that view hasn't changed.. IMHO, we are about to retest the lows of Jan.. and if that holds we should be in for a nice buying opportunity within a week or so..

Considering where STO's ended last week, I expect to find a buying this week, but it may be only for a few days..

But what if support doesn't hold..

.. The following is my Worse case scenario, IF !!!! Support doesn't hold.. Look for a few days of rest at support and a continuation bearish..

Spx - A continuation to 1790/1845, retrace to 1870 before continuation to 1700 area...
DWCPF - same scenario, but with 825/859, retrace to 880 before continuation to 770 area...
EFA - Dosent like to retrace with the others, so it should just jump to 51 then 48..



---
Find us on Facebook!
Professional TSP Advisory Returns
** Updated monthly
What is this?
** Registered Investment Advisor
Pending Allocations for Feb 10, 2016
Join FantasyTSP™
Track allocation performance
Talk with other TSP investors
Learn new investment strategies
Compete for Leader Board listing
Monitor TSP share prices
and much more...
Register Free
TSP Share Prices for Feb 9, 2016
| | | | | |
| --- | --- | --- | --- | --- |
| | | Close | Day | YTD |
| | G Fund | $14.9508 | +0.01% | +0.24% |
| | F Fund | $17.3064 | -0.05% | +2.07% |
| | C Fund | $25.0341 | -0.05% | -9.17% |
| | S Fund | $29.9402 | -0.58% | -15.03% |
| | I Fund | $21.4463 | -0.97% | -10.99% |
| | L 2050 | $13.6643 | -0.35% | -9.06% |
| | L 2040 | $24.4690 | -0.30% | -7.91% |
| | L 2030 | $23.3675 | -0.26% | -6.77% |
| | L 2020 | $22.0741 | -0.19% | -4.89% |
| | L Income | $17.4404 | -0.08% | -1.87% |