--- Member Statistics ---

12,559 members, 28 online
Newest member: PhoGa

TSP.gov Closed on Monday...


Some financial markets will be closed on Monday, February 15th in observance of the Presidents' Day holiday. The Thrift Savings Plan will also be closed. Transactions that would have been processed Monday night (February 15th) will be processed Tuesday night (February 16th), at Tuesday's closing share prices.

https://www.tsp.gov/tsp/login.html



---




Lucia - Introduction


Fellow servicemembers/FERS civilians/all others,

Please allow me to introduce myself. I am a SSgt in the USAF with 8 years TIS. Last year, I reenlisted for 5 more years in the CENTCOM AOR.

I currently invest in the TSP that I started in 2009, a Roth IRA with Vanguard that I started in 2010, and an individual brokerage account, which I have used on and off since 2003. My allocation in Vanguard was 99% VGENX, a fund invested in 100% energy equities/1% cash in a MMA until 2014, when I reallocated to 100% VFIFX, the Retirement Fund for 2050. I have experienced limited success and many failures/lessons learned as an investor, and strive to improve my understanding through, among several avenues, this informative site and members like you.

My retirement investment strategy consists of several components.

1) $5500 allocated annually to Roth IRA contribution DCA on weekly basis 100% VFIFX. (passive)
2) $18000 allocated annually to Roth TSP. (hybrid passive-active, I will mostly follow the seasonal strategy or FantasyTSP annual leaders with small deviations and risks based off technical indicators and likelihood of positive or negative sentiment that will affect Mr. Market)
3) As much as possible into individual brokerage account. I sold nearly all my holdings last year as I was not sleeping well at night with the amount of risk I was taking. That was when I learned that the only thing worth investing more than a retirement is personal health; the value of a good night's sleep cannot be understated. From 2003-2015 I have held positions in T, XOM, ATVI, BPI, ARYC, KO, IAE, TZA, TNA, TVIX.
4) Real estate. I currently rent out a house in NE.

My Roth IRA is on autopilot until 2050 so the only goal I have for it is to maximize the contribution and not deviate from DCA/buy and hold.

My goal in TSP is to gain at least 1% per month and 12% per year. I failed last year.

My long term goal with the IBA is to invest in at least one solid growth stock that becomes the next AAPL, NFLX, GOOGL etc. I have had no success so far.

My rental property is taken care of by a property manager so the goal is to use the rental income to pay off the mortgage earlier.

I look forward to benefitting from your collective wisdom/guidance in our journey towards a well funded, fat and happy retirement. Good trading!



---




Potential S&P bounce off of support


This pattern looks similar to the Aug/Sept 2015 set up. This pattern was also similar to Nov 2008 **And it did not hold up. One main difference in 2008 was that the Momentum/Bollinger band squeeze broke out NEGATIVE (red).

This pattern depends on the Momentum/Bollinger band squeeze breaking POSITIVE (green). Also MACD going (+) with divergence increasing, Stoch RSI going into Oversold conditions.

***Only for discussion purposes. Just something I was looking at and my brain says it could be something to keep an eye on for an entry point. If an entry was made, extreme caution would be warranted.

https://www.tradingview.com/x/TzJecsAA/





How Low Can it Go?


While the question is impossible to answer definitively, we can get some clues by looking at a monthly chart of the S&P 500 (C-Fund).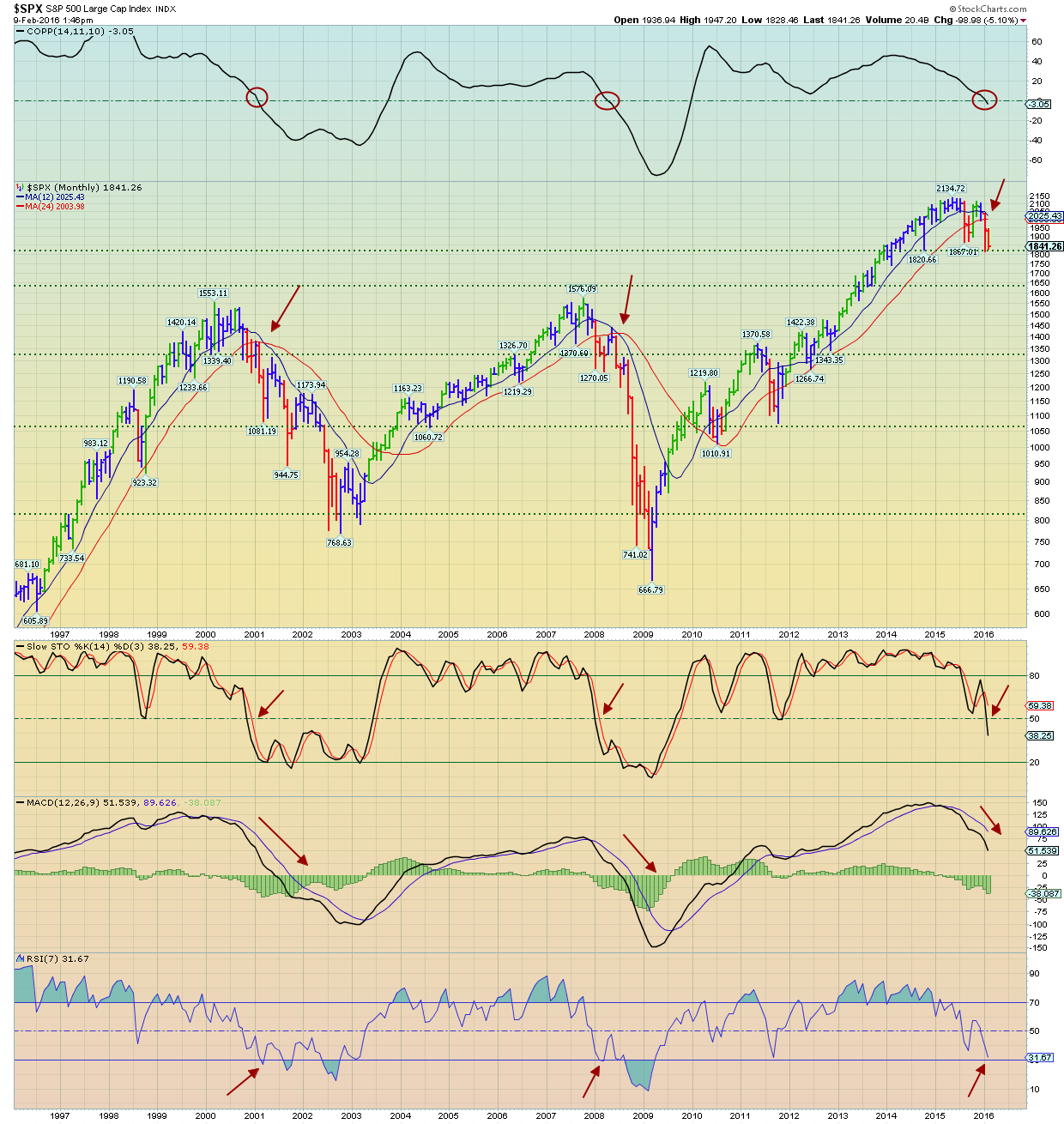 Does the FED know they need to raise rates?


I read a few days ago that Iran wants Euros for oil.

http://www.cnbc.com/2016/02/07/iran-wan ... sales.html

Since oil and commodities are traded in dollars, are we seeing this starting to unravel? This would lead to a large flood of dollars back into the US. Perhaps the FED keeps saying unemployment rate as an excuse to raise interest rates because they need a red herring? Can you imagine the possible implications if they said the dollars dominance is ending so they need to stop inflation before it's here? Just some thinking...



---




TSP Center Subscription (Scarfinger)


I have to attribute everything I know because of this site. I have been using it for 5 years now. Total free


This site has been so important and it provides such a great service for free. I can afford to donate 5$ a month.

Consider donating if you can afford it.

Blah, blah, blah. Hugs and kisses. Now get back to work!



---




Bonds are Flying - Gold is Flying


The fact that bonds and precious metals prices are going nuts tells me that something in the equity markets just broke.

Not to mention an unbelievable oil / commodities collapse along side a tremendous debt bubble.

Is panic setting in at this very moment ? I don't know, but there sure are some signals present that would suggest panic is near.



---
Find us on Facebook!
Professional TSP Advisory Returns
** Updated monthly
What is this?
** Registered Investment Advisor
Join FantasyTSP™
Track allocation performance
Talk with other TSP investors
Learn new investment strategies
Compete for Leader Board listing
Monitor TSP share prices
and much more...
Register Free
TSP Share Prices for Feb 10, 2016
| | | | | |
| --- | --- | --- | --- | --- |
| | | Close | Day | YTD |
| | G Fund | $14.9515 | +0.00% | +0.24% |
| | F Fund | $17.3274 | +0.12% | +2.20% |
| | C Fund | $25.0378 | +0.01% | -9.16% |
| | S Fund | $30.0193 | +0.26% | -14.80% |
| | I Fund | $21.4002 | -0.21% | -11.18% |
| | L 2050 | $13.6638 | -0.00% | -9.07% |
| | L 2040 | $24.4685 | -0.00% | -7.91% |
| | L 2030 | $23.3672 | -0.00% | -6.77% |
| | L 2020 | $22.0743 | +0.00% | -4.89% |
| | L Income | $17.4416 | +0.01% | -1.87% |