IFT Move slow


I am new to Fantasy TSP. I think it is a fantastic idea. I just started and had the apparent default of 100% G fund. I made a move last week (Friday I think). However, it did not take effect until today. Is the Fantasy TSP supposed to emulate the real TSP as far as move timelines? This move was a little late (by a day). I'm not complaining. I just need to understand how it works. Also, are we limited to 2 moves per month here as well so as to emulate the real TSP?



---




Roth or not to Roth


Just curious what peoples take on the Roth vs. Traditional contributions. Once Roth contributions were allowed I converted 100% of my future contributions to Roth in addition to my personal Roth account (So in essence I'm all in on Roth). To me it makes no sense because of tax implications in the future. As employees of this sinking ship do we really trust our government to lower taxes in the future or make things easier on us in the future. I'm not looking for someone to talk me out of my position just curious other peoples thought process on this. Am I being narrow minded or do I have tunnel vision on this?



---




IFT question


Hey everyone, long time listener first time caller here. Had a quick question about IFT's as I sit here pullin my hair out watching the C fund/S&P yo-yo up and down, currently plummeting 22pts after a respectable finish around 2081 last night.

Say I put in an IFT before 12 EST so it goes through next day, when my IFT goes through the next day will it go off the closing price the day I submitted it, or the closing price that next day when it processes?

Also (okay two part question) do the TSP funds track pretty closely to the funds their based on, or is there a lag time in closing price of the actual Fund and the listed price of the TSP fund that follows it?

Thanks in advance!



---




S Fund is using an old index


Hi folks,

Just a FYI that the TSP S Fund no longer tracks the Wilshire 4500. Instead, it now tracks the Dow Jones Completion Index. Please update the S Fund accordingly. No clue when this changed, but it did. What's the impact of this? Not much from what I can tell.

Source:
https://www.tsp.gov/InvestmentFunds/Fun ... nce_S.html

Completion Index:
https://www.google.com/url?sa=t&source= ... 21XZTve8Hg



---




FNG, just checking in . . .


New FED, went back after several years in private sector; looking for advice as I am no expert. I'm currently contributing 6% into the TSP, and 5% into the TSP Roth. (It's a start)
---




TSP Advantage May Update!


The C-Fund modestly broke above the $28.40 peak established last July but quickly reversed direction. The previous down trend is now neutral.

Momentum and market fundamentals are weak and the trend is uncertain at this point.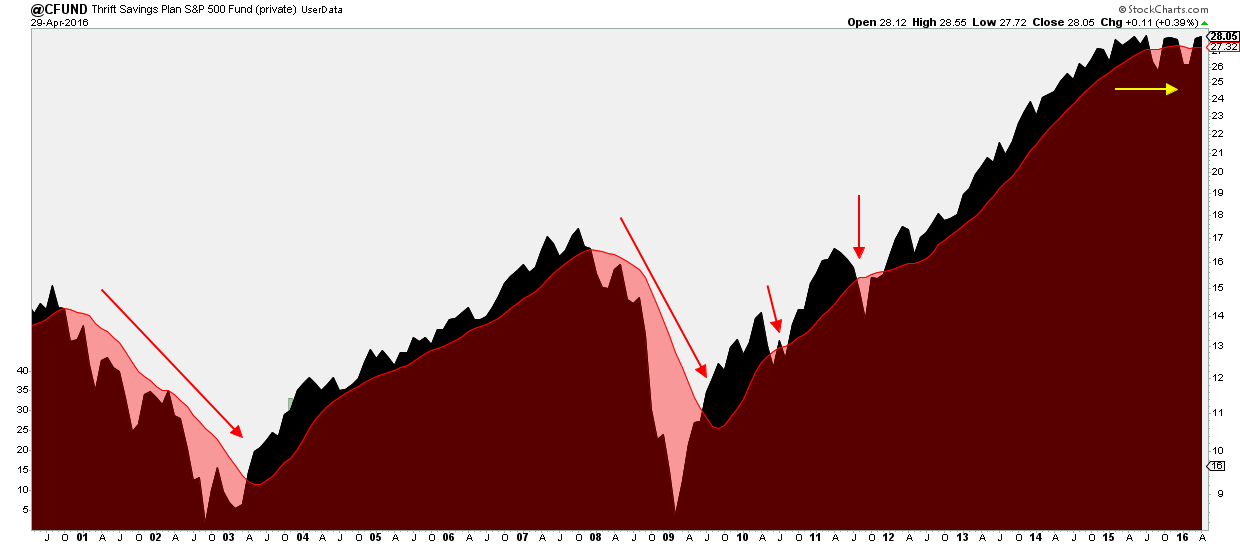 http://tspadvantage.org/wp-content/uploads/2016/05/C-Fund.png

The F-Fund is now moving sideways. The trend is uncertain at this juncture.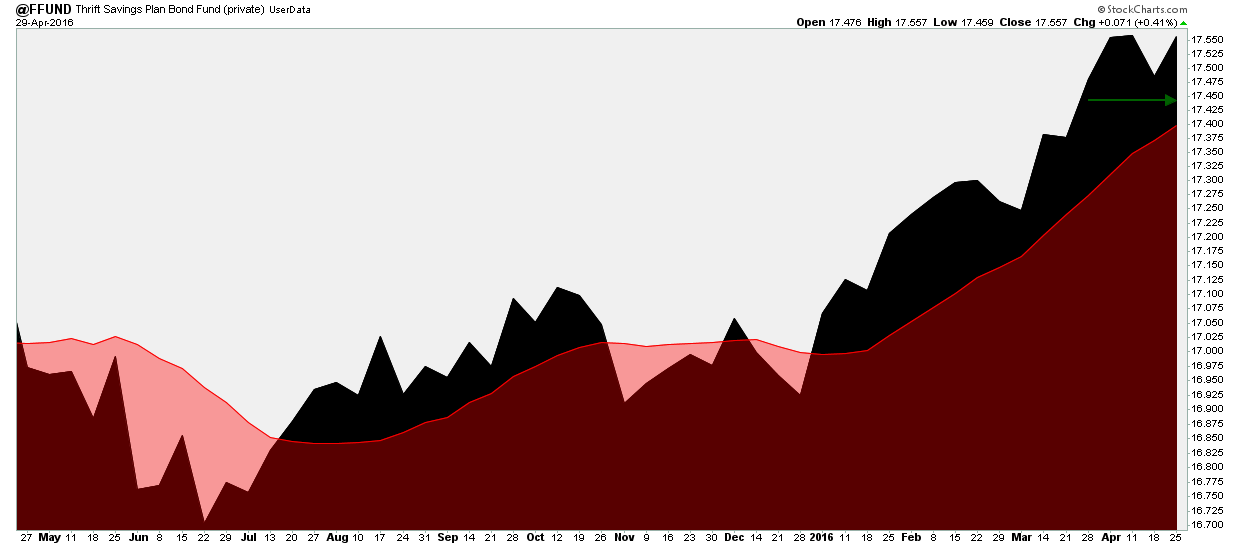 http://tspadvantage.org/wp-content/uploads/2016/05/F-FundZoom.png

For current charts and commentary on all of the TSP Funds go to: http://tspadvantage.org/



---




TSP Forecast 1 May


AGG / F Fund:... F Fund is looking to bounce off recent highs..BB are closing, The short term MACD and STO are rising, but the longer term (Weekly) STO / MACD are peaking out and looks like they are ready to fall, so I don't think F will be a the buy fund (vs G) it has been for the first part of the year

SPX / C Fund:... .. EFA / I Fund:... ...
C and I Funds look like they have maxed out on the daily and C on the weekly charts.. The "Sell in May and Go away" looks like it may work this year.

DWCPF / S Fund:... .... S and Funds looks to have a little steam left on the weekly chart, but the Daily looks in trouble.

I have already bought EFA Puts in the real world.. so I'll see where that gets me..



---
Find us on Facebook!
Professional TSP Advisory Returns
** Updated monthly
What is this?
** Registered Investment Advisor
Pending Allocations for May 6, 2016
Join FantasyTSP™
Track allocation performance
Talk with other TSP investors
Learn new investment strategies
Compete for Leader Board listing
Monitor TSP share prices
and much more...
Register Free
TSP Share Prices for May 5, 2016
| | | | | |
| --- | --- | --- | --- | --- |
| | | Close | Day | YTD |
| | G Fund | $15.0129 | +0.00% | +0.65% |
| | F Fund | $17.6089 | +0.18% | +3.86% |
| | C Fund | $27.8637 | -0.00% | +1.09% |
| | S Fund | $34.9583 | -0.37% | -0.79% |
| | I Fund | $23.5629 | -0.31% | -2.21% |
| | L 2050 | $15.0392 | -0.13% | +0.09% |
| | L 2040 | $26.6447 | -0.10% | +0.28% |
| | L 2030 | $25.1628 | -0.08% | +0.40% |
| | L 2020 | $23.3330 | -0.05% | +0.54% |
| | L Income | $17.9088 | -0.01% | +0.76% |