Jackson Hole Summit


Fed Chair Janet Yellen: "Indeed, in light of the continued solid performance of the labor market and our outlook for economic activity and inflation, I believe the case for an increase in the federal funds rate has strengthened in recent months."

I think the markets have baked in a rate hike for December. But some of the other voting members of the FOMC are looking more at September.



---




Rolling Seasonal Strategy Method & Results


I created a simple seasonal backtest to determine the validity of following a seasonal strategy by using a rolling 5 year basis. The method is simple:

Calculate the average return of each month for the past five years for the Russell 2000. Invest in the 6th year for each month where the past five year average is positive. All other months remain in VUSTX (long term bond fund).

The strategy starts calculating averages in 1987 and the strategy begins in 1992. The results are:

Strategy average return: 7.0% a year (using log returns)
Buy and hold return: 8.0% a year (using standard returns)

Now, a caveat. This isn't considered a rigorous backtest due to overfitting, not enough samples, etc.

Backtest Performance of Seasonal Strategies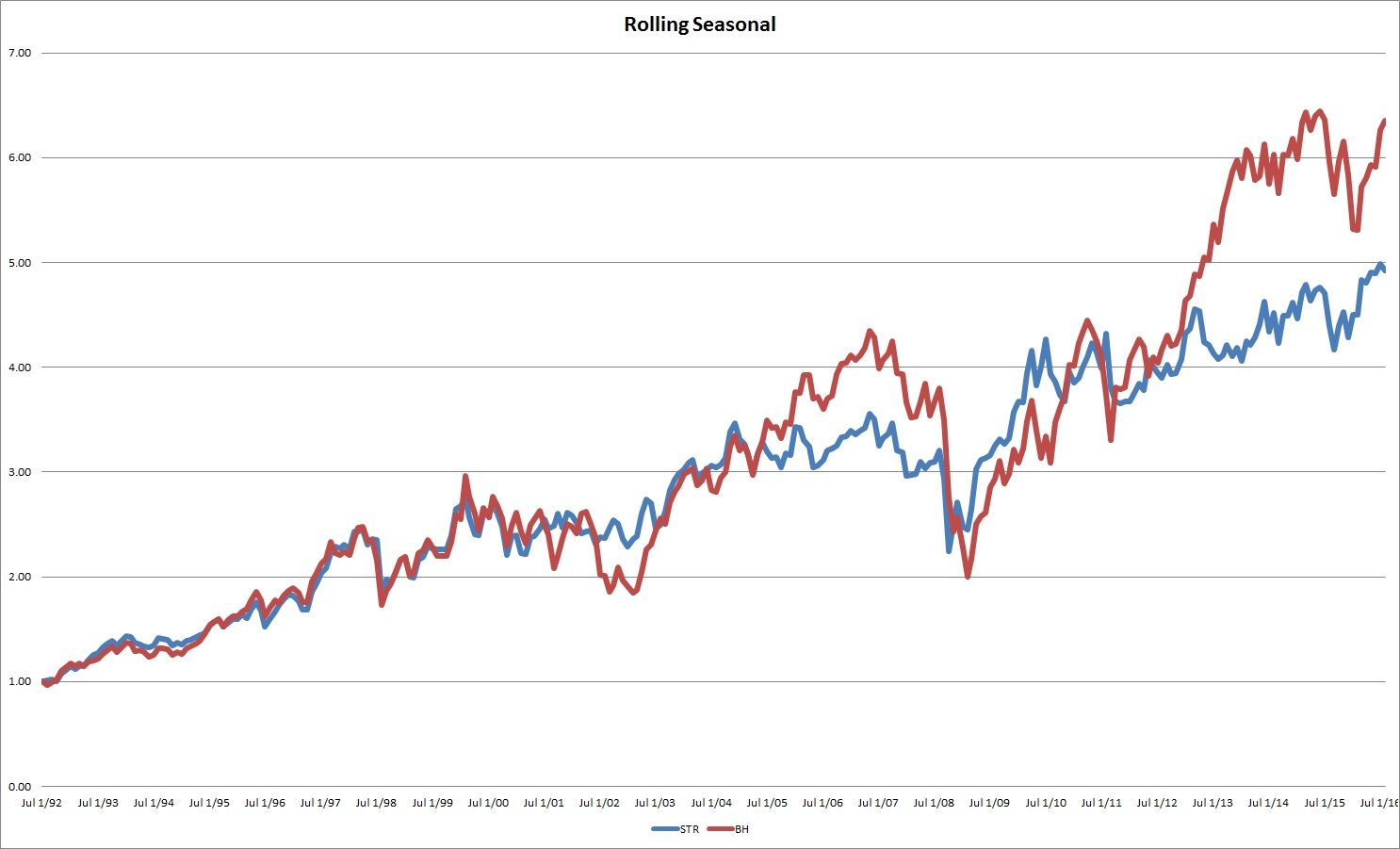 Share Prices and IFTs for August 23


Looks like the share prices for August 23 were not updated and most IFTs yesterday did not go through. The share prices for August 23 are actually the share prices for August 22. Skie or Aitrus, can you get this fixed? Thanks.



---




Will the S&P 500 Hit 2500 in 2017?


Todd Gordon thinks it's a real possibility.

http://www.cnbc.com/2016/08/23/sp-500-i ... -says.html

I'm still all in at S-60% and C-40%.



---




Season not good this month


The F Fund not tracking well this month, seasonality has me in it, but making no head way as I am sure many others following this strategy are feeling. Wanting to jump out and get on the C / S / I band wagon, but just to scared to pull the trigger. Heading out of the country for the 2nd two weeks of Sep, so may just move to G and not worry about anything. Then again could go big and have a great surprise waiting for me when I return. Good or Bad.



---




Can my contribution exceed my check?


I regularly change my contribution in wild swings. Sometimes I need cash for my other investments, so I will knock my contribution down to 5%. Other times I will set the contribution to $1500 or so to make up for lost time. I used to do this all the time. It allowed me to reach my maximum contribution for the year and still access new money when I needed to.

Now that I am working overseas, I do not receive locality pay. Instead, I receive two tax-free allowances, Post Differential and Living Quarters Allowance. As a result, my base salary is considerably lower than it used to be, even though I am netting about the same take-home. My 5% government match is lower, and my taxable income is lower.

With less taxable income, I am concerned that if I set my contribution higher than the portion of my check that comes from taxable income, it will mess something up. I received a $56 paycheck two weeks ago because my TSP contribution was $1000, I lost locality pay, and that was before my PD and LQA set in place.

Questions:

1) Can my TSP contribution pull from these non-taxable allowances, which are paid as part of my LES? For example, if my taxable income for the pay period is $2000, but I have $2100 worth of taxable deductions and another $1000 of non-taxable income, will it reduce my net pay by $100 and everything will work out fine?

2) Can my TSP contribution pull my net pay down to a negative amount? If, for example, I set my contribution to $5000, would the government make this contribution and send me a debt letter to repay?

I cannot mathematically max my contributions this year if my TSP contributions are limited to taxable pay minus deductions.

Thanks
-Matt



---




Tracking TSP?


Hi

Is there a way to track our TSP accounts? Doesn't seem like its possible with quicken (At least not easily).

Personal capital? Portfolio tracker with USA Today?



---
Find us on Facebook!
Professional TSP Advisory Returns
** Updated monthly
What is this?
** Registered Investment Advisor
Join FantasyTSP™
Track allocation performance
Talk with other TSP investors
Learn new investment strategies
Compete for Leader Board listing
Monitor TSP share prices
and much more...
Register Free
TSP Share Prices for Aug 29, 2016
| | | | | |
| --- | --- | --- | --- | --- |
| | | Close | Day | YTD |
| | G Fund | $15.0912 | +0.01% | +1.18% |
| | F Fund | $17.9873 | +0.36% | +6.09% |
| | C Fund | $29.8450 | +0.54% | +8.28% |
| | S Fund | $38.5647 | +0.59% | +9.45% |
| | I Fund | $24.5047 | -0.02% | +1.70% |
| | L 2050 | $15.9243 | +0.34% | +5.98% |
| | L 2040 | $28.0523 | +0.30% | +5.57% |
| | L 2030 | $26.3262 | +0.27% | +5.04% |
| | L 2020 | $24.1315 | +0.19% | +3.98% |
| | L Income | $18.2472 | +0.11% | +2.67% |